You want a place that is all your own. A place you can escape to. A place where you are king. Or queen. You want a man cave or a she shed. Canfield, Chardon, Stow, or Wintersville, Ohio, Moon or Sewickley, Pennsylvania, Weirton or Chester, West Virginia, it doesn't matter. Your own place to get away and be YOU means so much.
And both man caves and she sheds require the right kind of shelving, custom cabinets, and countertops.
Man caves might be sports havens, where custom display cases showcase prize jerseys. Flat screen televisions can be hidden behind cabinet doors. And what man cave is complete without a custom bar?
A she shed could be a place of retreat and comfort, secluded from the cares and stresses of life. A good she shed should have bright and pleasant colors, custom countertops, bookshelves, and plenty of places to put a Keurig or tea kettle. We even can find a way to include a refrigerator for bottles of wine. All of it integrated into a seamless look provided by our expert custom design team.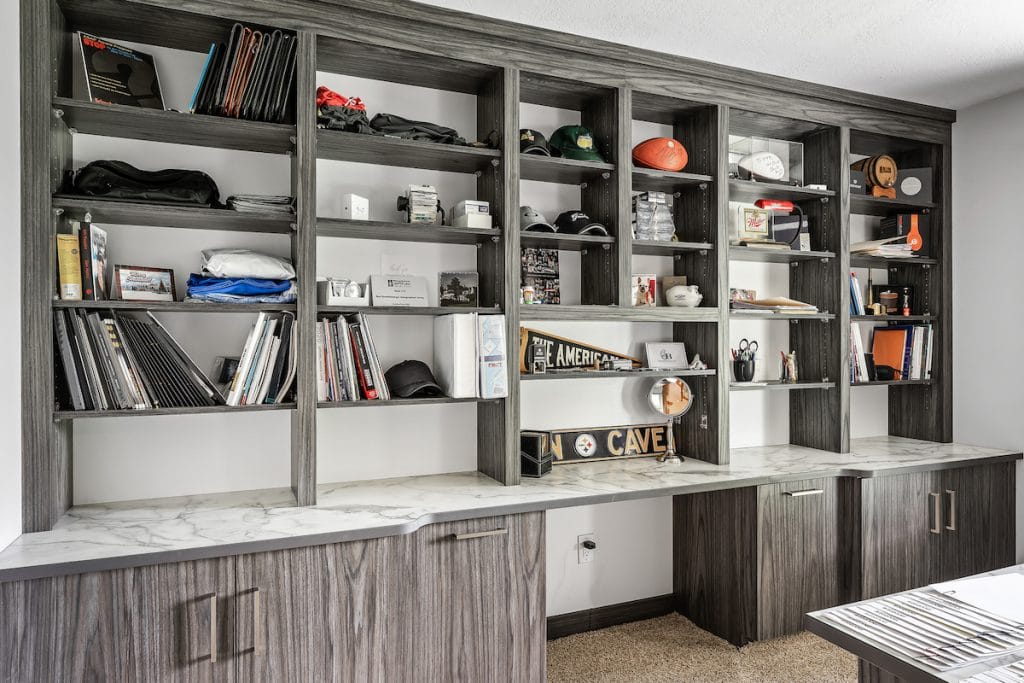 Or perhaps the man cave or she shed is more of a work space. In that case, you'll need space to store tools, supplies, and all the essentials. All of it needs to be arranged in a sensible, convenient, and efficient way, without sacrificing beauty and comfort.
No matter your needs, the custom design team at Crowe's Cabinets says, "If you can dream it, we can build it." Your man cave or she shed will be what you need it to be. And it will utilize the space in the best way possible. We can provide a custom cabinetry design, quartz countertops, solid surface, or plastic laminate — like Formica countertops — all the while respecting your budget.
Contact Crowe's Cabinets to begin designing the man cave or she shed of your dreams!